This website introduces my book Relational Integrative Psychotherapy: Engaging Process and Theory in Practice and lays out some key ideas about how psychotherapists engage their work in relational and integrative ways.
I wanted to create a resource for Integrative Psychotherapists and trainees who seek to work in relational ways. More than simply being a website to market my book, I wanted a site which offered practical ideas, information and resources for supervisees/students (and their supervisors/trainers).
In addition to giving a synopsis of the different book chapter topics, I offer a few associated handouts for each chapter along with videos, diagrams and other bits.  I also provide some important links, and list of further resources and recommended readings associated with each chapter. (This is work in progress – so bear with me!).  On the different pages, I list a few personal favourites and recommended resources that have inspired my practice. Also check out the full reference list which lists all the ones I've used in my book.
I want this website to be a useful interesting practical resource so I hope you will enjoy, and gain from, reading the different sections. Maybe you'll feel inspired to dialogue with me or to recommend some further links. Feel free to contact me directly on linda@lindafinlay.co.uk. Over time I hope to develop the handouts and resources so if you have any ideas about these let me know.
I invite you to make use of the different handouts and various resources. Of course if you cite from this website, you will need to reference the material as being from either this website or the book itself :
Finlay, L. (2016). Relational Integrative Psychotherapy: Processes and Theory in Practice, Chichester, E.Sussex: Wiley.
Finally, if you're interested in relational integrative psychotherapy practice, you might be interested in my latest book (published by Sage) The Therapeutic Use of Self in Counselling and Psychotherapy: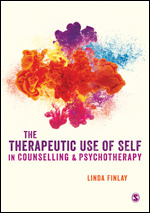 https://www.amazon.co.uk/Therapeutic-Use-Self-Counselling-Psychotherapy/dp/1529761468
See also my previous book (also published by Sage): Practical Ethics for Counselling and Psychotherapy: A relational approach.  In this book I focus on relational processes involving holding, containing and boundarying.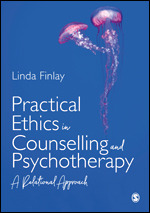 https://www.amazon.co.uk/Practical-Ethics-Counselling-Psychotherapy-Relational/dp/1526459280
Contact details:
Dr Linda Finlay, Integrative Psychotherapist, York
+(0) 7807925407
Data Protection: I take data protection and confidentiality seriously. If you contact me by email, I will hold onto your data only while processing your communication. I will not copy, share or use your personal information without your consent.  This website is hosted by WordPress. WordPress uses WP Statistics to determine how many people are using the site and to maintain its function. WP Statistics records visits, redirects from search engines, browser data and GeoIP by country. None of this information identifies anyone personally. Disabling cookies on your internet browser will stop WP statistics from tracking any part of your visit.